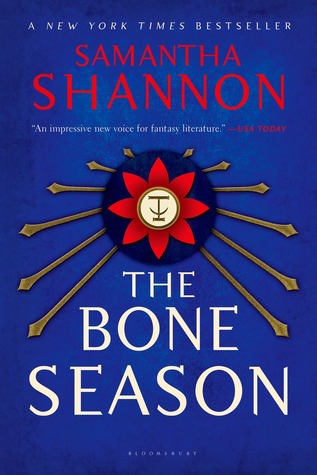 The Bone Season by Samantha Shannon
Series: The Bone Season #1
Published by Bloomsbury on August 20th 2013
Genres: Fantasy, Science Fiction, Young Adult
Pages: 466


It is the year 2059. Several major world cities are under the control of a security force called Scion. Paige Mahoney works in the criminal underworld of Scion London, part of a secret cell known as the Seven Seals. The work she does is unusual: scouting for information by breaking into others' minds. Paige is a dreamwalker, a rare kind of clairvoyant, and in this world, the voyants commit treason simply by breathing.

But when Paige is captured and arrested, she encounters a power more sinister even than Scion. The voyant prison is a separate city—Oxford, erased from the map two centuries ago and now controlled by a powerful, otherworldly race. These creatures, the Rephaim, value the voyants highly—as soldiers in their army.

Paige is assigned to a Rephaite keeper, Warden, who will be in charge of her care and training. He is her master. Her natural enemy. But if she wants to regain her freedom, Paige will have to learn something of his mind and his own mysterious motives.

The Bone Season introduces a compelling heroine—a young woman learning to harness her powers in a world where everything has been taken from her. It also introduces an extraordinary young writer, with huge ambition and a teeming imagination. Samantha Shannon has created a bold new reality in this riveting debut.
Pellentesque lacus neque, congue vitae enim et, commodo placerat sem. Fusce faucibus, elit condimentum aliquet lacinia, nunc eros rhoncus turpis, eu ultricies magna mauris id erat. Nullam non magna suscipit est elementum accumsan quis non nunc. Ut lacinia sodales arcu a posuere. Suspendisse euismod tortor nec egestas porta. Donec rhoncus et magna vel malesuada. Nullam tempor tempor ligula, sed mattis nisl. Curabitur a ipsum tortor. Maecenas ac lectus elementum, aliquam odio in, venenatis neque. Fusce convallis orci dui, eu luctus nunc cursus et. Fusce non augue a lorem tristique auctor ut nec nibh. Curabitur vel urna nec purus accumsan laoreet. Nulla porta sollicitudin placerat. Praesent elementum scelerisque aliquet. Fusce eget diam at lectus consequat viverra sit amet id ligula.
Nam semper lacus magna, vel fermentum lectus bibendum a. Morbi adipiscing augue ac adipiscing euismod. Class aptent taciti sociosqu ad litora torquent per conubia nostra, per inceptos himenaeos. Donec tincidunt eget nunc hendrerit tincidunt. In vel tortor lorem. Duis in nisi ante. Curabitur ornare mattis venenatis. Cras sollicitudin tellus eget elit volutpat ultricies. Etiam ornare ligula lorem, a vehicula felis egestas a. Phasellus auctor mauris et congue posuere. Vestibulum quis nulla enim. Nulla venenatis lorem magna, et fermentum nunc volutpat a. Nullam a rutrum eros. Donec ac nibh sit amet tortor porttitor bibendum vitae ut sem.
Vivamus elit nisi, hendrerit eu massa vitae, tempor porta risus. Quisque ultrices mauris nisi, quis dapibus dui tempus a. Aliquam at consequat libero. In lectus diam, tempus sit amet cursus iaculis, placerat ac enim. Aenean semper eget lorem eu dictum. Nullam tempus, tortor nec facilisis scelerisque, nibh augue hendrerit leo, nec luctus nisi nisi et quam. Sed ut pretium neque. Quisque sed tristique tellus. Praesent semper quis diam ac dapibus.